«Cantry» Cheese with baked milk scent
KOMO Cantry presents the best combination of cheese flavor and baked milk. It is perfect both for breakfast canapés and spicy sandwiches with onion.
KOMO Cantry cheese will add the inimitable caramelized spice nuance to your dishes and will taste great in salads and snacks.
It's so easy to cast your mind back to childhood with KOMO Cantry, when sandwiches were the yummiest and the tea tasted the sweetest.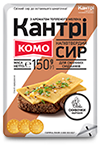 150 г
Sliced,
firm tray

150 г
Prepack brick,
flow pack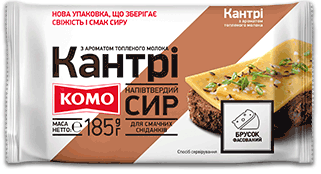 185 г
Prepack brick,
flow pack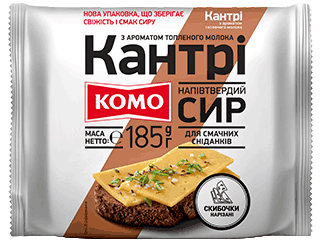 185 г
Sliced,
firm tray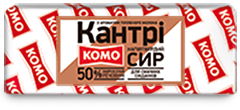 3,0–3,5 кг
Weight brick
nutritional value
per 100 g of cheese
(calorie content)
(349 kcal)
Recipes