«Old Dutch» Long maturing cheese, 2 months
If you'd like to taste an exquisite Holland cheese, try KOMO Old Dutch.
This cheese will surely captivate the most demanding cheese gourmets, because it embodies the best flavor nuances of Holland cheeses.
Try KOMO Old Dutch with hot desserts, warm salads and fish dishes. Besides, it tastes amazing with tea and coffee.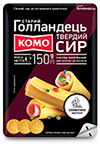 150 г
Sliced,
firm tray

150 г
Prepack brick,
flow pack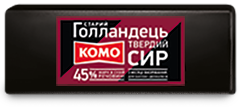 3,0–3,2 кг
Weight brick
nutritional value
per 100 g of cheese
(calorie content)
(334 kcal)
Recipes