«Golder» Long maturing cheese, 12 months
KOMO Golder cheese is a black pearl in KOMO family. Like collectible wine, it matures longer than ordinary cheese, namely 12 months, attaining special flavor and mature hardness.
The cheese has a special hard texture and is easy to grate, which makes it irreplaceable for hot soups and cheese dressings. You can also use KOMO Golder as piquant topping for salads or to complement red wine. It will definitely be a star on your cheese plate!

150 г
Prepack brick,
flow pack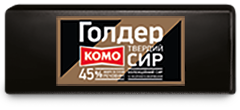 3,0–3,2 кг
Weight brick
nutritional value
per 100 g of cheese
(calorie content)
(360 kcal)